..

Excerpt from "Color Harmony for Quilts"...

quick jumps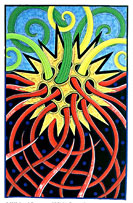 Sassaman Quilts
on the web
....

It has been a full summer for everyone in this family. The house seemed to swell and sway with the extra bodies and enthusiasm of friends reunited after the long school year or parting before the next adventure.

But now the house is quieter than it has been in 22 years. Both kids have gone off to school – senior year for Oliver and freshman for Willow. It has been an emotional transition for all of us. We are so proud of them, but so reluctant to let go of our protective embrace.

They both seem to be thriving after the first weeks and now it is a bit easier to bear, especially when I realize how little laundry and grocery shopping needs to be done!

Greg's garden has been a spectacular background for all this activity. Once again, I am impressed how its maturity reflects the phases of our own life. Lush and colorful during the summer; now still lovely but overgrown and a bit tired. The mums, ornamental cabbage and Chinese lanterns are awaiting their turn at stardom. They anticipate autumn, like Greg and I anticipating our fiftieth birthdays and September's song.

Beside the college preparations, much of the past few weeks has been spent fondling the new line of fabrics, Jane's Floral Fantasy. I am really excited about these new designs. The colors are bright and optimistic. There is a bit more black and a funky diamond check which really adds pizzazz. The dots are back in new colorways. Jane's Floral Fantasy is energetically feminine and fun.

We have lots of elves busy with projects using the new fabrics...quilts, pillows, clothes and accessories. We will share them with you in these pages (be sure to sign up for our newsletter so we can let you know when we have new things to share). We are preparing Floral Fantasy patterns and kits for our web store this season, too. The patterns are designed to make dramatic quilts quickly. Large and easy piecing lets the fabric do the work. They are perfect for new quilters and busy people.

We have two new pieces of writing for you this month. The first is by FunQuilters Bill Kerr and Weeks Ringle – an excerpt from their book "Color Harmony for Quilts" on how to determine quilt fabric quality. The second is a piece by our friend Mary Sullivan Holdgrafer of exploringcreativity.com on the ongoing discussion on the art/craft issue in contemporary quilting.

Enjoy the new edition, the new fabric and the autumn chill in the air!

-Jane
Autumn 2003
PS
As usual, please let us know of your Sassaman fabric projects. This month we have two new additions to the Exotic Garden gallery and we are eager to see your Floral Fantasy projects, too! Email pictures of your projects to information@janesassaman.com.
Houston International Quilt Market & Festival...
Yes, it's that time of year again! And Jane's new line of fabric will be on display (as well as The Butterfly Quilt) at the Free Spirit booth at the International Quilt Market & Festival October 25 - November 2 in Houston, Texas.
Quilt Market is a 3 day tradeshow devoted to quilt shop retailers - new merchandise, new trends, workshops and more. Quilt Festival runs from October 30 - November 2 and is open to everyone with an interest in quilting. Quilt Festival boasts more than 1,000 booths of quilts, fabrics, books, patterns, specialty tools, supplies as well as exhibits, classes and, you guessed it, quilts!
International Quilt Market & Festival takes place at the The George R. Brown Convention Center, Houston, Texas. For More information, go to http://www.quilts.com
Surface Design...
By all reports, The Fabric Constructions show and "Hands On" conference in Kansas City, Missouri was an interesting success. The Surface Design Journal has commissioned art historian Dr Maria Elena Buszek to write an article about the exhibition. Dr Buszek has let us know that she spends some time discussing Jane's contribution "Pushing Up Daisies." We can't wait to read the article and will let you know when the issue hits the stands.
Oxymoron show...
Inspired by the oxymoron "art quilt," the curators of the "Oxymorons: Absurdly Logical Quilts" traveling show invited 40 contmeporary quilters to create works using an oxymoron as its starting point. The Renegades of Belfast, a group of contemporary quilt artists from Maine, chose fiber artists as diverse as David Walker, Alison Goss, Emily Richardson, Mary Lamb Nehring, Jane A. Sassaman and many others. The result are works with such conflicted thematics as Tough Love, Almost Perfect, Clearly Ambiguous and Jane's Minor Miracle (pictured at left above the header Sassaman Quilts).

"Oxymorons" has previously been displayed at Carnegie Hall Museum, the Museum of American Quilter's Society, Rock County Historical Society at Janesville, Wisconsin, the Art Center Gallery at Missouri State University and others; it also served as a principal exhibit at the American Quilter's Society 2003 Quilt Exposition in Nashville, Tennessee.
The exhibit runs in the Main Gallery from September 6 through November 2, 2003. For more information you may contact them by phone at 814-459-5477 or visit them on the web at erieartmuseum.org
Pattern Update...
We are very close to having these patterns available! Laura Grey, our Art Institute intern, is taking charge wrapping up all the details and then we're off to press. There are four very lovely patterns based on seasonal quilts Jane has specifically made for this project. Sassaman workshop attendees have been getting a sneak peek at the originals, and the reaction thus far has been very positive. Each pattern will measure 8" square and Jane is already cooking up more ideas for other patterns in the series. We will be sure to let you know when the patterns come off the presses!
Join our Newsletter...
Stay up to date! We keep our mailings short and sweet, once every 6 weeks or so. We'll let you know of new product releases, appearances, magazine stories and more.
About this site...
We want this site to be informational, inspirational and fun! Please let us know what you think. We would love to know what you would like to see in the future, as well as things you might be interested in sharing with other visitors, including links to interesting sites. You may contact us at information@janesassaman.com.
For ideal viewing of our site, set your screen resolution to 1024 X 768

Click here to go directly to Jane's Quilt Gallery. Use the links above to learn more about Jane's schedule, find out about workshops, purchase books and card sets and explore interesting links and resource bibliography. Have fun and we're waiting to hear from you!

....
shop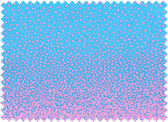 Jane's Floral
Fantasy is here!
Kaleidoscope II
fabric kits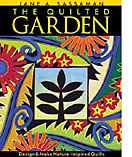 The Quilted Garden,
signed editions

Tri-Flower Handbags

Needlepoint Canvasses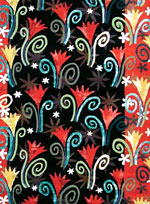 Jane Sassaman
Area Rugs


A Century of
Quilts Video